We won the Hambleton Business Awards for Digital!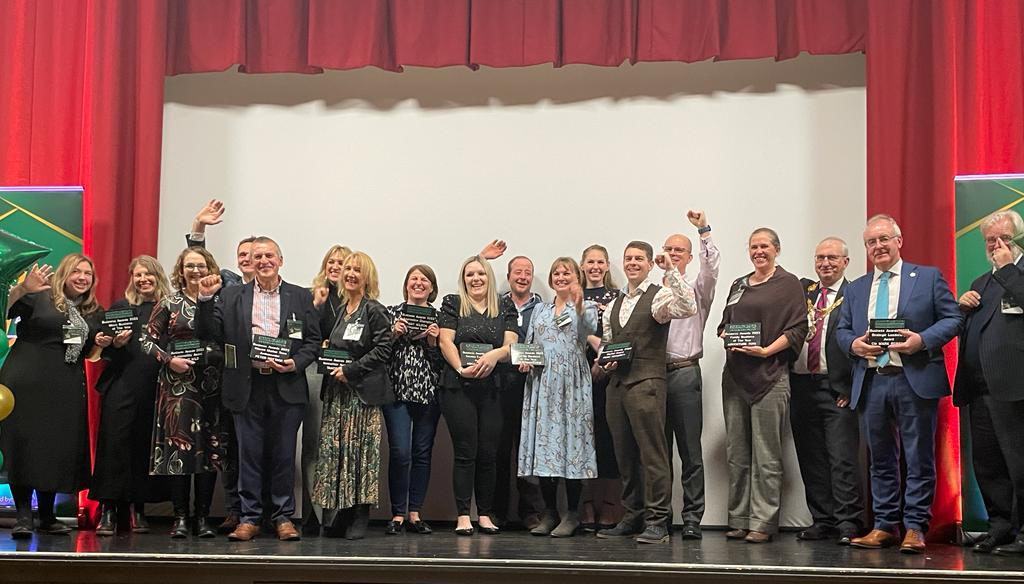 Daniel, Simon and Melissa receiving their award with the other winners on the night!
---
Punk Security is officially an award winning business!
---
We were thrilled to receive the Digital Award in recognition of our market-leading innovation, and the commitment we have to our clients' cyber resilience and digital agility.
The Hambleton Business Awards are a celebration of local businesses across a series of categories and we were fortunate enough to be shortlisted for their Digital award this year. We had fierce competition from some fantastic businesses and were genuinely honoured to win the award. We opened our first office in Northallerton C4DI because C4DI, Barclays EagleLabs and Hambleton make a significant commitment to driving digital innovation.
On the 1st April 2023, Hambleton District Council will cease to exist as it merges into North Yorkshire County Council alongside seven other districts. This makes this year's awards even more significant. The last ever Hambleton Business Awards, "the last hurrah".
What makes Punk Security a Digital innovator?
We embrace leading-edge technology and processes
Punk Security stand out from other security companies because we understand modern development practices, cloud services and the automation which underpins DevOps processes.

We don't just audit our clients for security issues, we also work with them to remediate their issues and improve their posture. We have helped companies through acquisition due-diligence and pre-funding rounds by providing direct architecture and engineering support.

We help other businesses improve their resilience
Punk Security has built and released four open-source tools, helping other businesses to audit and improve their own security at zero cost.

We built SMBeagle to allow companies to secure their networks because we saw companies struggling to recover from ransomware attacks due to completely avoidable misconfigurations.

We built dnsReaper so companies can quickly check where their websites may be vulnerable to takeovers by attackers, allowing them to fix it before it became an issue.

Our entire workforce has been fully remote from the start
Almost all of our employees are home workers, allowing us to hire and retain the very best talent from across the UK. We rely heavily on technology to allow us to maintain working relationships and collaborate digitally. We are truly a Digital first business.

We give back to the community
Daniel and Simon have spoken at events all over the UK, but also in Ireland, the US, and Saudi Arabia.

We have championed DevSecOps to both security and development teams, giving free webinars and publishing our short "An introduction to DevSecOps".

We have contributed to 2 CTFs as well as recently organising our own. We are also working closely with OWASP and a number of BSIDES chapters.
For more information, email us at

[email protected]

or call us on 0161 660 3545